"A TASTE OF THE CARIBBEAN WITH REAL TEXAS HEAT!"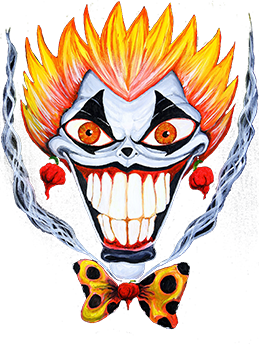 During a trip to St. John, VI in the Caribbean in 1994, a few close friends and I experienced a taste infused with the perfect combination of tangy sweetness from the local island fruits along with the right amount of heat. For years' we've tried to create this type of sauce to no avail until early 2016 when the last piece of the puzzle was solved with the 20th ingredient added to finally create...
"KLOWNS ON FIRE" TASTY HOT SAUCES"
Fantastic on Grilled Chicken, Chicken Wings, Beef, Mexican Cuisine, Lasagna Pork Loing, Pork Ribs, Cream Cheese and Goat Cheese.
Even fed some to "Tabasco Kitty" on St. John many moons ago! He was skinny when we arrived, but by the end ot our vacation, he was a "PORKER"! If "HE" loved it, I knew we were on to something great!
We are extremely proud to make this taste from the Caribbean with a Texas twist available to give everyone that wonderful fruit taste that starts out sweet but bites back with the perfect heat combination with the Carolina Reaper pepper.
"FLAVOR BEFORE FIRE"
The Klowns On Fire! Team is proud donate some of our profits to worthy charities chosen annually.