Press releases
Plano, Texas . January 28th, 2019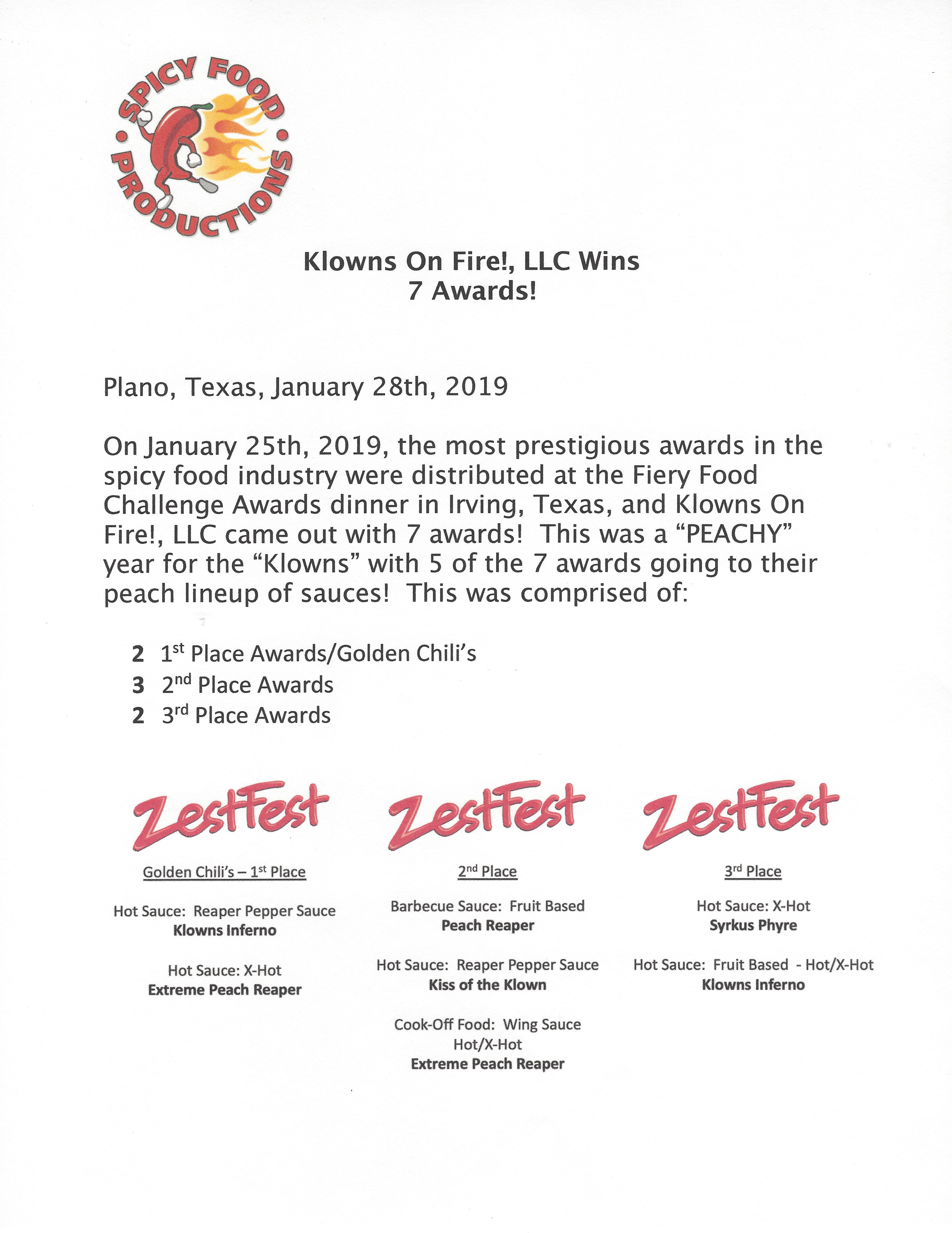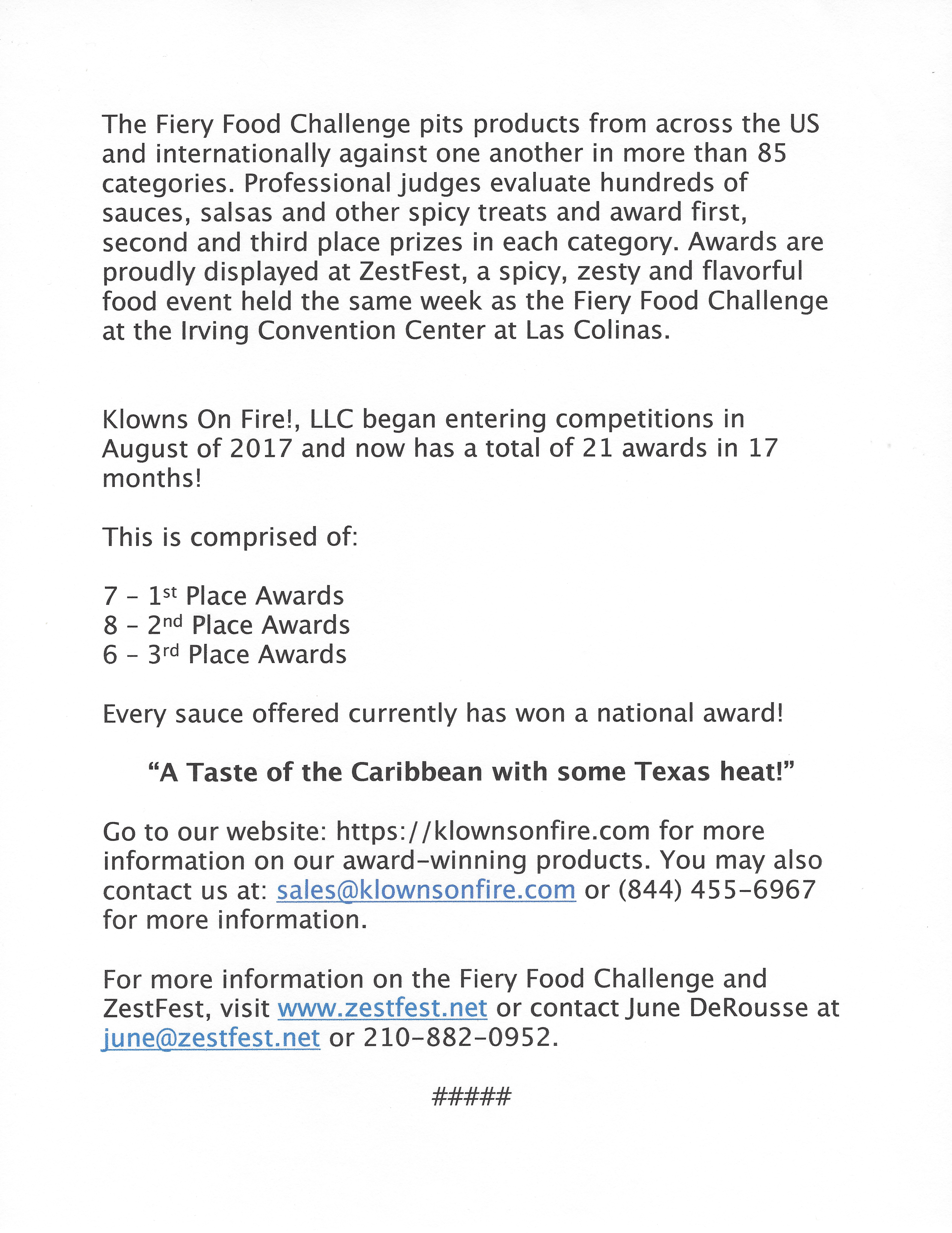 Plano, Texas Octobr 17th, 2018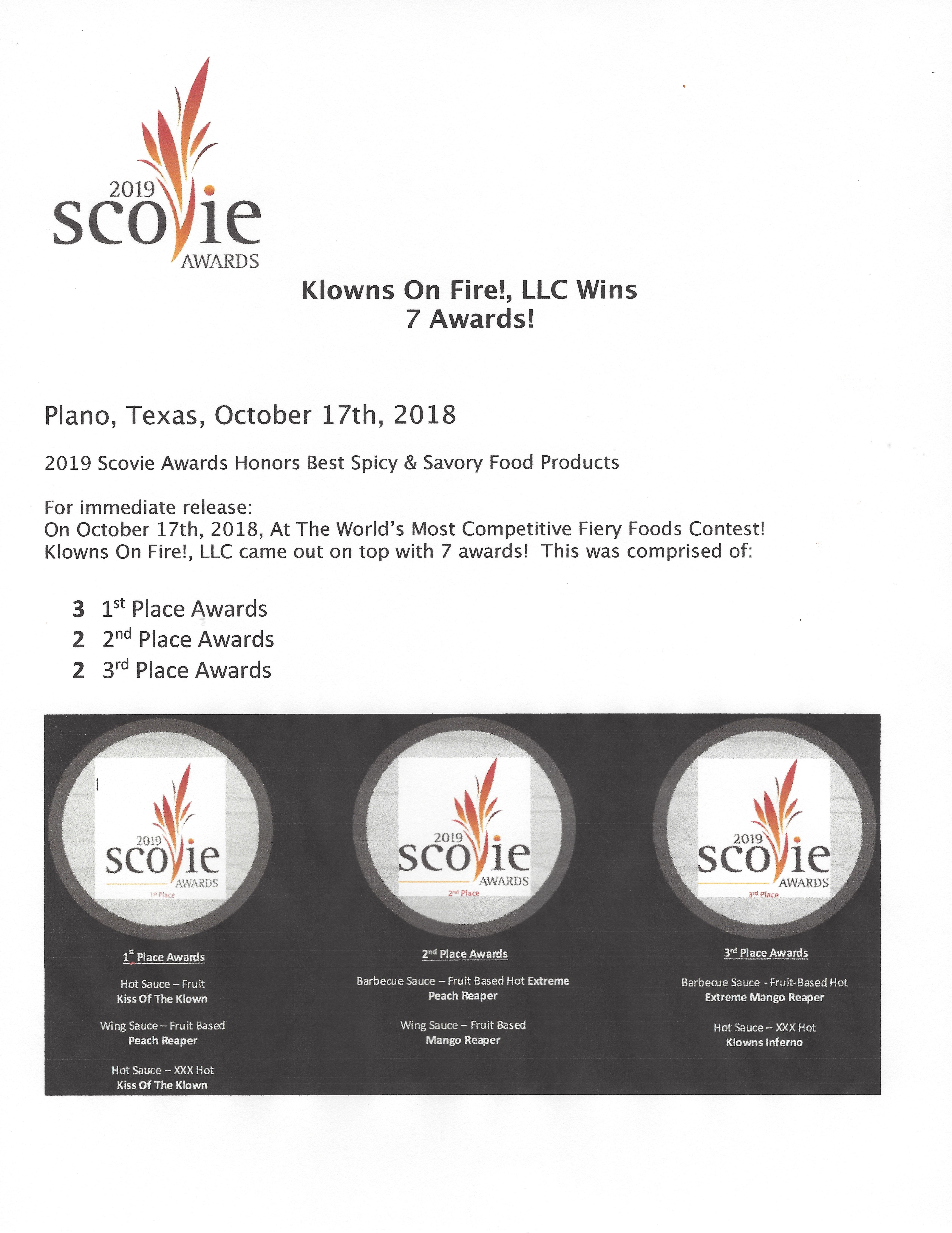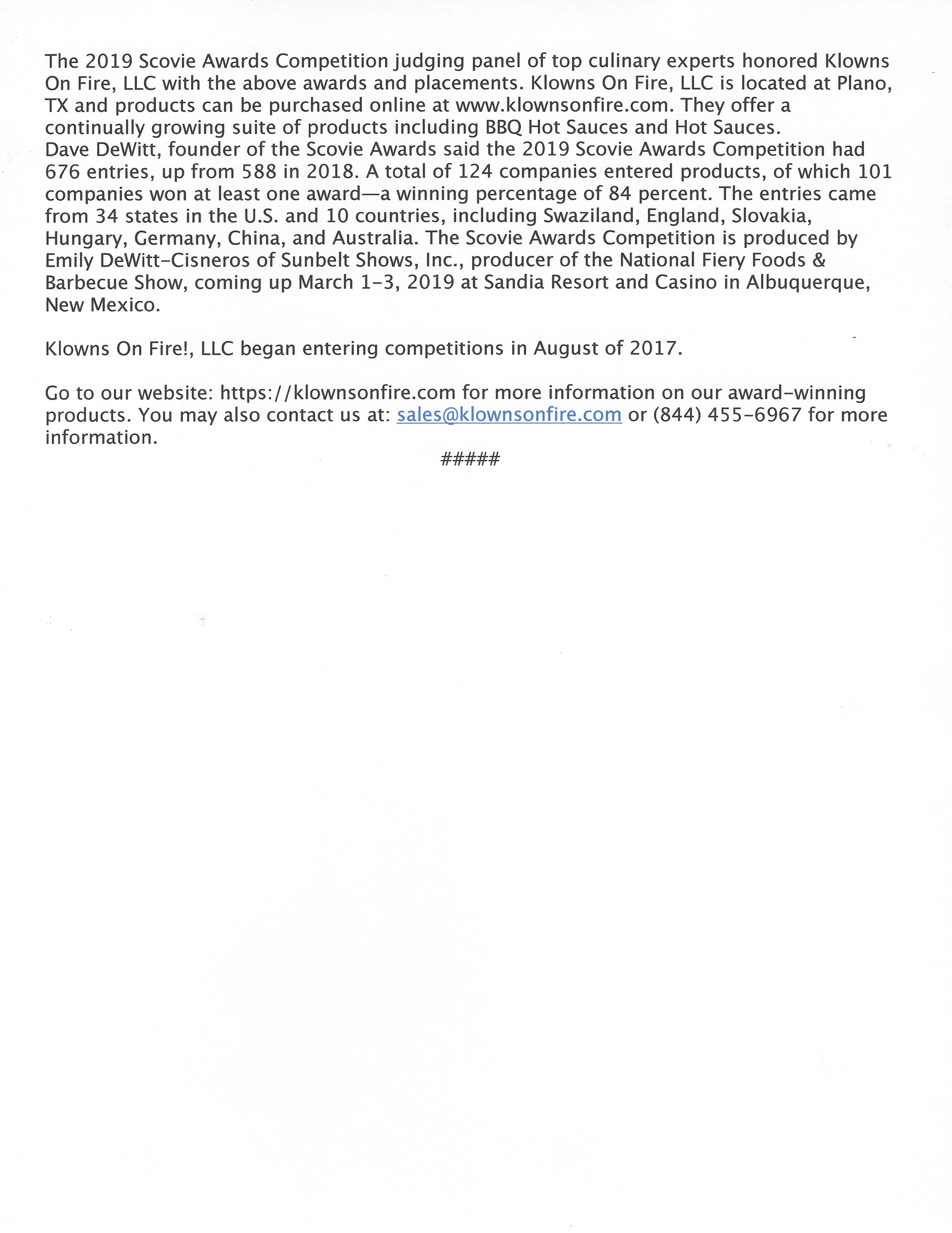 Plano, Texas April 22nd, 2018
Klowns OnFire!, LLC took 2 Major Awards in 2 categories at the 2018 6th Annual NYC Hot Sauce Expo aka 2018 Screaming Mi Mi Awards. These 2 prestigious awards were in the following categories:
Screaming Mi Mi Award - Reaper Sauce - Kiss of the Klown
2nd Place - XXX Hot Sauce - Klowns Peach Inferno
With these 2 latest awards, this rounds out 7 National Awards in less then a year!
Klowns On Fire!,LLC took second place for 3 categories in the 2018 Fiery Food Challenge for Cook Off –Wing Sauce, BBQ Sauce Extreme Heat, and Marketing for best T-shirt!
Plano, Texas . February 5, 2018
On January 26, 2018, the most prestigious awards in the spicy food industry were distributed at the Fiery Food Challenge Awards dinner in Irving, Texas, and Klowns On Fire!,LLC came out on top! Mango Reaper BBQ Hot Sauce took home 3 2nd place awards.
The Fiery Food Challenge pits products from across the US and internationally against one another in more than 85 categories. Professional judges evaluate hundreds of sauces, salsas and other spicy treats and award first, second and third place prizes in each category. Awards are proudly displayed at ZestFest, a spicy, zesty and flavorful food event held the same week as the Fiery Food Challenge at the Irving Convention Center at Las Colinas.
Mango Reaper BBQ Hot Sauce has now won 5 awards, including 1st place in October 2017 with Chili Pepper Magazine for Best Fruit based BBQ Hot sauce and 3rd place in August 2017 at the Austin Hot Sauce festival for best Specialty hot Sauce. The company started on June 22, 2017 and focuses on a Fruit based BBQ hot sauce with the heat from the Carolina Reaper pepper. "A Taste of the Caribbean with some Texas heat!"
Greg Hallmark, CEO, said "We are proud and humble to be selected as finalists for this year's awards – congratulations to the first-place winners and to everyone on the Klowns team!"
Ron Dillon, President, said "We are extremely honored and excited to be part of this growing industry and the multitude of wonderful people surrounding it." In a world of so many choices, our motto is "Flavor Before Fire" and will continue to represent this today and in the future with our product offerings."
In a world of so many options for Barbecue, Hot Sauce and Salsas, Klowns On Fire places "Flavor Before Fire" paramount to all products we offer.